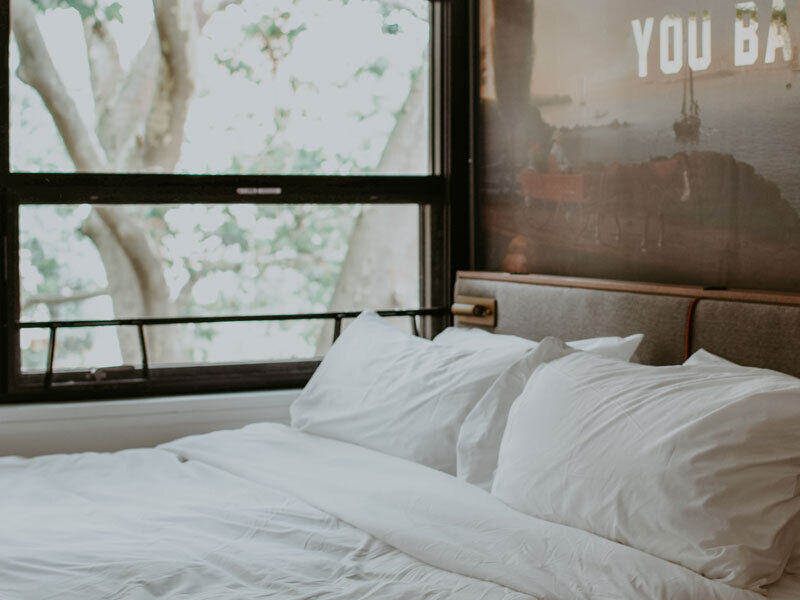 What is a queen-size bed?
What is a queen-size bed?
Anyone who has ever lived or spent a holiday in the United States or stayed in a hotel abroad has certainly come across the term "queen-size bed". This bed designation is mainly used in North America and in Europe usually only appears in product catalogues or hotel room descriptions. In Germany, a distinction is usually made between single and double beds, although the dimensions can vary here as well.
The term "queen size", like king size, refers to the size of a bed. Even if the name evokes associations of a particularly regal, luxurious sleeping experience, "queen size" says nothing at first about the specific furnishings of the bed, because queen size beds come in various designs.
Queensize bed: Dimensions
The American queen-size bed is 60 x 80 inches, i.e. 152 x 203 cm. This bed size is unusual in Germany. Therefore, the term "queen size" is used in Germany to refer to beds with a 140 x 200 cm or 160 x 200 cm mattress. With these dimensions, the queen-size bed corresponds to the recommended minimum size for couples. Queensize beds are therefore particularly suitable if the bedroom does not offer enough space for a conventional double bed. The queen-size bed is also a good choice for singles who prefer a larger lying surface when sleeping.
In Great Britain, the term "queen-size bed" is largely unknown. Beds measuring 152 x 203 cm are called king-size there. In America, on the other hand, a distinction is made between different queen-size dimensions:
Standard Queensize: 60 x 80 Inch (152 x 203 cm)
Olympic Queen: 66 x 80 Inch (168 x 203 cm)
California Queen: 60 x 84 Inch (152 x 213 cm)
Just like a king-size bed, a queen-size bed also uses only a single continuous mattress. If two mattresses and two slatted frames are used, this is called a twin size bed.
What types of queen-size beds are there
Since queen size refers to the size of the bed, this term can be used for many different types of beds. The closest to the American model is the queen-size box spring bed. This consists of a solid base with an integrated spring system, a mattress and a topper. A queen-size box spring bed does not have a separate slatted frame or an additional mattress. All components are built into a complete system. But also upholstered beds with or without a bed base, metal beds, solid wood beds, pallet beds or water beds are available in queen size. With these types of beds, a slatted frame and a mattress in the right size must then be purchased as well. In this way, the right queen-size bed can be found for every taste, every furnishing style and every room size. If you want to use the space available in a narrow room particularly effectively, you can also consider a queen-size loft bed. With this variant, you can benefit from a large lying surface without losing too much floor space in the room.
Buying a queen-size bed: here's what you should look out for
Queensize beds are ideal for anyone who likes to have a little more lying space available, but does not have enough room for a king-size bed. Couples also appreciate queen-size beds because they only have one mattress and therefore no "visitor's crack" can interfere with cuddling. However, in order to really sleep like a king in a queen-size bed, there are a few things you should consider when buying one:
The dimensions of a queen-size bed vary depending on the manufacturer and country of manufacture. So pay close attention to the size specifications so that the bed fits in your bedroom and you can also buy the matching bed linen.
When choosing a mattress, you should make sure that it adapts to your sleeping habits.
Good mattresses have adaptable body support - for example, through the Flexbone system - foams and a reversible top layer - so that the mattress can be adjusted according to the different requirements for the lying feeling.
Especially for couples, it is important that the mattress ensures your optimal body support so that both can enjoy a restful sleep.
When choosing queen-size bed linen, you should also pay attention to the specific measurements. There are not only fitted sheets for different mattress sizes, but also special duvet covers that are also suitable for wider duvets.