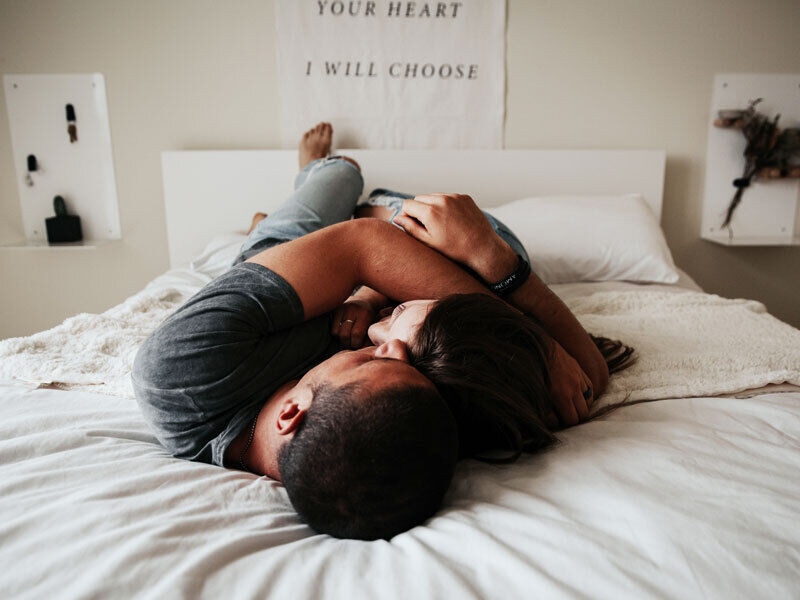 French bed: definition
What is a French bed?
The French are generally regarded as particularly romantic, passionate contemporaries. No wonder, then, that a type of bed is named after them. The French bed, known in France as the Grand Lit, is a bed for two people with only one continuous mattress and a slatted frame.
The French bed is about the same size as the double bed widely used in Germany. However, in this country it is common for each person in a double bed to have their own mattress and slatted frame. In France, however, a shared lying surface without the so-called visitor's crack is common.
The French bed is therefore also said to promote romance and togetherness. Couples in love can move even closer together and cuddle without being separated by the gap between the two mattresses.
Our tip: There is always something that can be done better. With a French bed and a matching 140x200 mattress, romantic togetherness is guaranteed in comparatively little space. The 140x200 mattress is especially suitable for couples with a small bedroom.
What are the dimensions of a French bed?
Usually, a French bed is 140x200 cm and is therefore suitable for couples as well as for single persons who like to have a little more space to sleep. In addition, there are also French beds that are only 120 cm or 160 cm up to 180 cm wide. Those who would like to buy a French bed will find the right model for almost every room size thanks to the variable widths. Of course, everyone can also build their own bed - the sky's the limit.
The different sizes in which French beds are available mean that the term is often used synonymously with king-size beds or queen-size beds.
For whom are French beds suitable?
French beds are especially popular with teenagers and young adults. A slightly wider bed looks great in a teenager's room and, in contrast to a narrow single bed, is less reminiscent of a child's bed. For many teenagers, a French bed is therefore part of growing up. Young adults, such as students living in shared flats, appreciate the larger lying surface while saving space compared to a double bed. If you have little space in your first flat or flat-share room, but still want to sleep comfortably as a couple in one bed, it is best to use a French bed.
The right mattress for a French bed
Whether you sleep in a French bed as a couple or alone: for a truly restful sleep, it is of course important to choose the right mattress. It is important to choose a mattress that distributes the body weight optimally and thus enables an ergonomic lying position for side, stomach and back sleepers.
For couples, this often raises the question of how to deal with different requirements for the lying feeling. In this case, it is not necessarily necessary to use two narrower mattresses, as is the case in a conventional double bed.
Buying a French bed: here's what you should look out for
French beds are particularly suitable for small bedrooms. Nevertheless, you should always keep the room size in mind when choosing the bed width. If the bed is used by two people, the size should be chosen so that there is enough space to get in and out of the bed on both sides. You should also make sure you choose the right bed linen for a French bed. Since this bed only has one mattress, you need correspondingly large sheets.
Beyond that, there are hardly any limits to your ideas. French beds are available in almost every conceivable design: as a metal or upholstered bed, with or without a bed base, made of solid wood and even as a box spring bed. You also have a free choice of colours when buying a French bed, so you can find the right model for every taste and every interior style.